NEW YORK GRAVEL RIDES, THE COLD SPRING INTERMEDIATE ROUTE
New York City's gravel riding scene is booming. With Grand Central offering easy access for cyclists to gravel riding routes in and around New York, New Jersey, and Connecticut, more New York cyclists are opting for adventure. Among the different gravel riding hotspots, Cold Spring is a standout gravel mecca. 
 Just an hour away from Grand Central by train, the town on the banks of the Hudson River offers a getaway to the endless white gravel roads of Putnam County. These gravel roads are comprised mostly of smooth hardpack, allowing cyclists at different levels to enjoy a day out. Whether you're riding a full-on gravel bike with wide tires and are looking for a true adventure, or if you're pedaling a road bike with 28mm tires and just want to get a taste for gravel, Cold Spring has a lot to offer to anyone. 
Located in the Hudson Highlands at the deepest point of the Hudson River Valley, directly across from West Point, the Cold Spring gravel riding scene offers natural beauty in abundance. Small hamlets, farms and stretches of open fields are there to make sure your gravel rides are extra special.
For many, New York is just a city, but the state is also home to some of America's most stunning landscapes. Up North, the Adirondack Region is home to hundreds of mountain summits that feed the Hudson River. Part of the Appalachian Mountains system, the Adirondack region was originally formed 480 million years ago. 
What distinguishes Cold Spring from the northern communities around the Hudson Valley below the Adirondacks is the surrounding Hudson Highlands Mountains. The bedrock of the Highlands is more than a billion years old and represents the core of the Appalachian Mountains system. 
The topography of the Cold Spring region, the low population density, and the sheer number of gravel roads make for a route design that can easily range in length, elevation, and difficulty. The gravel roads themselves are well maintained and it's easy to ride around the area for a day without encountering any particularly technical terrain.  
 For us, riding in Cold Spring was always the perfect way to introduce someone to gravel, or to spend a beautiful Sunday on the bike on stunning gravel roads without committing to a super hard and long day-trip.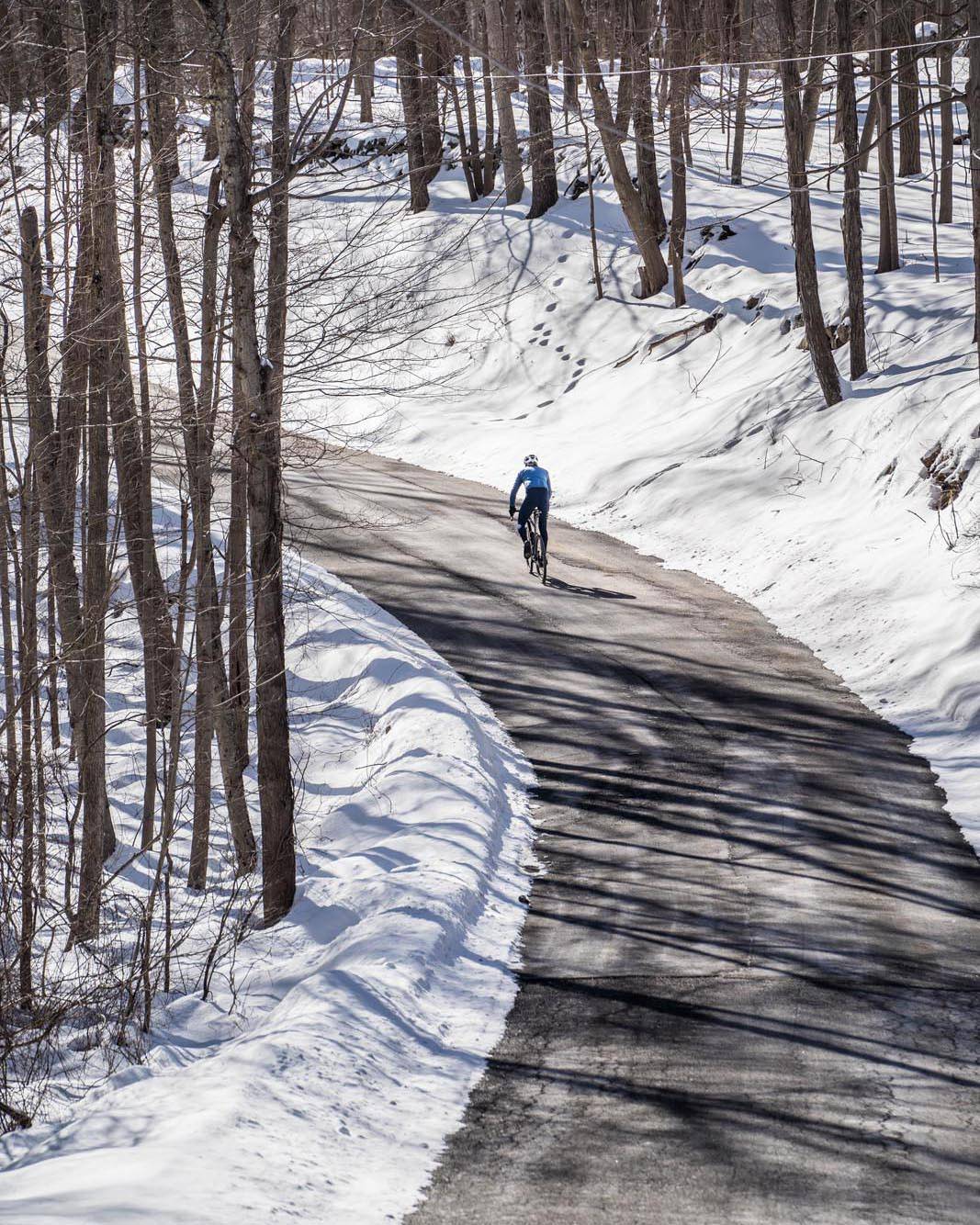 Gravel Riding Around New York City At Its Best
"Whether you're riding a full-on gravel bike with wide tires and are looking for a true adventure, or if you're pedaling a road bike with 28mm tires and just want to get a taste for gravel, Cold Spring has a lot to offer to anyone"
A New York Classic Gravel Route That Is Packed With History
Our intermediate route begins at the Cold Spring Train Station, heading Southeast towards Fort Hill and South Highlands.
The first climb of the day starts at around mile 5, right after the Garrison Golf Club as we are crossing the famous Croton Aqueduct, New York City's old water distribution system. The two-mile climb can be challenging for new riders, but easily doable at a moderate pace.  
Following the day's first challenge, we are rewarded after 7.5 miles of riding with a right turn into Old Albany Post Road. The 6.6-mile dirt road in Philipstown, New York, is one of the oldest unpaved roads still in use in the United States. We will descend on it for miles, down to Continental Village, passing by Fort Defiance Hill, Indian Lake, and Little Fort Hill, all places of particular importance for the Continental Army during the American Revolution.
At Continental Village, our route will take us Northeast towards Gilbert Corners, where we will turn left and cross the Appalachian Trail. From there we'll head once again to Old Albany Post Road and complete our first triangle after 18.5 miles. The route then folds back on itself, leading us back to Indian Creek, near Cold Spring. This time when we get there we will head up towards Fahnestock State Park in Carmel Hamlet.  
 The ride up to Fahnestock State Park is our big climb for the day. 7 miles long with grades topping 13% at some points, we recommend taking your time up that one. From there, it's almost all the way down towards the Hudson River back to beautiful Cold Spring. 
At 35 miles on gravel, the route will take about 4 hours for intermediate riders to complete. 4 hours on the bike of quiet gravel roads where history was made. Just one hour away from New York City. There can hardly be any questions as to why this intermediate Cold Spring Gravel route is so popular among New York cyclists who are opting for off-road.
New York Gravel Rides, The Cold Spring Intermediate Route