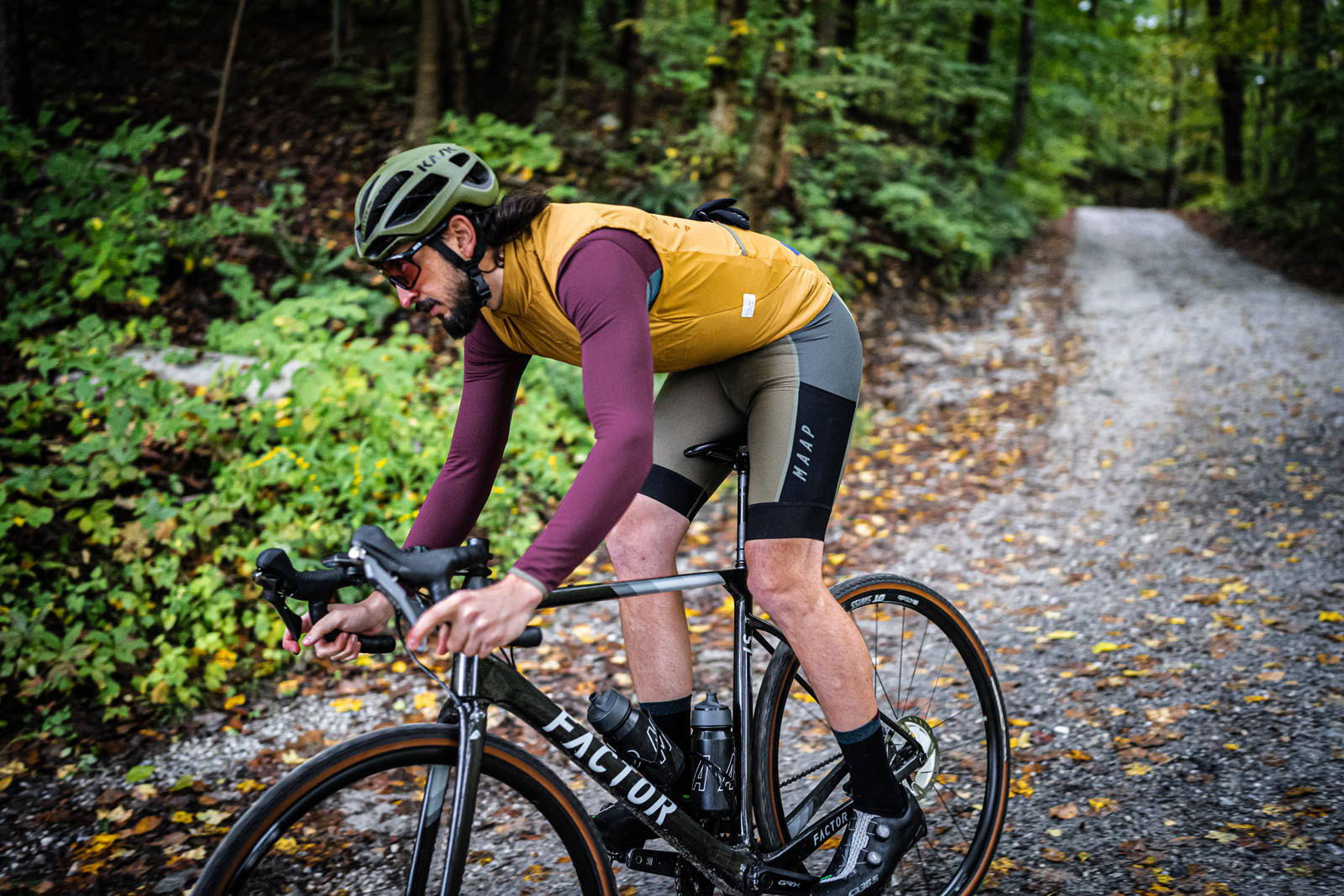 MAAP ALT_ROAD CYCLING APPAREL GUIDE

Wondering what MAAP ALT_ROAD stands for? Discover our exclusive MAAP ALT_ROAD collection guide with tips on how to dress for a gravel ride with MAAP's gravel and off-road cycling apparel collection.

MAAP ALT_ROAD Cycling Kit
MAAP ALT_ROAD is a cycling modular alternate apparel project. With ALT_ROAD, MAAP set to undermine the boundaries between cycling apparel and casual wear. The ALT_ROAD collection's colors and the modularity of the items make it feel at home at the bar or cafe, as well as on the road.
While maintaining an alternative look and feel, MAAP ALT_ROAD is made of traditional cycling kit materials. On top of the kit, MAAP's ALT_ROAD gravel cycling jerseys with pockets, combine light wool with technical yarns. The combination results in a fabric which provides the thermoregulation and anti-odor properties of Merino wool, while maintaining the structural, wicking, and fit properties of technical garments. Available in short sleeve and long sleeve versions.
The MAAP ALT_ROAD Technical T-Shirts, available in short sleeve and long sleeve versions, are another pocketless top option for the ALT_ROAD kit. Continuing the MAAP ALT_ROAD kit are the Cargo Bib Shorts, available in two colors, both which feature pockets. Finishing off the ALT_ROAD gravel kit are merino wool socks.
For the cooler months, the modular cycling kit can be topped with a MAAP ALT_ROAD vest, or an ALT_ROAD thermal jacket.
In addition to the MAAP ALT_ROAD kit, MAAP also released accessories to complete the kit look. These include MAAP ALT_ROAD gloves, and MAAP x Apidura bike frame bags.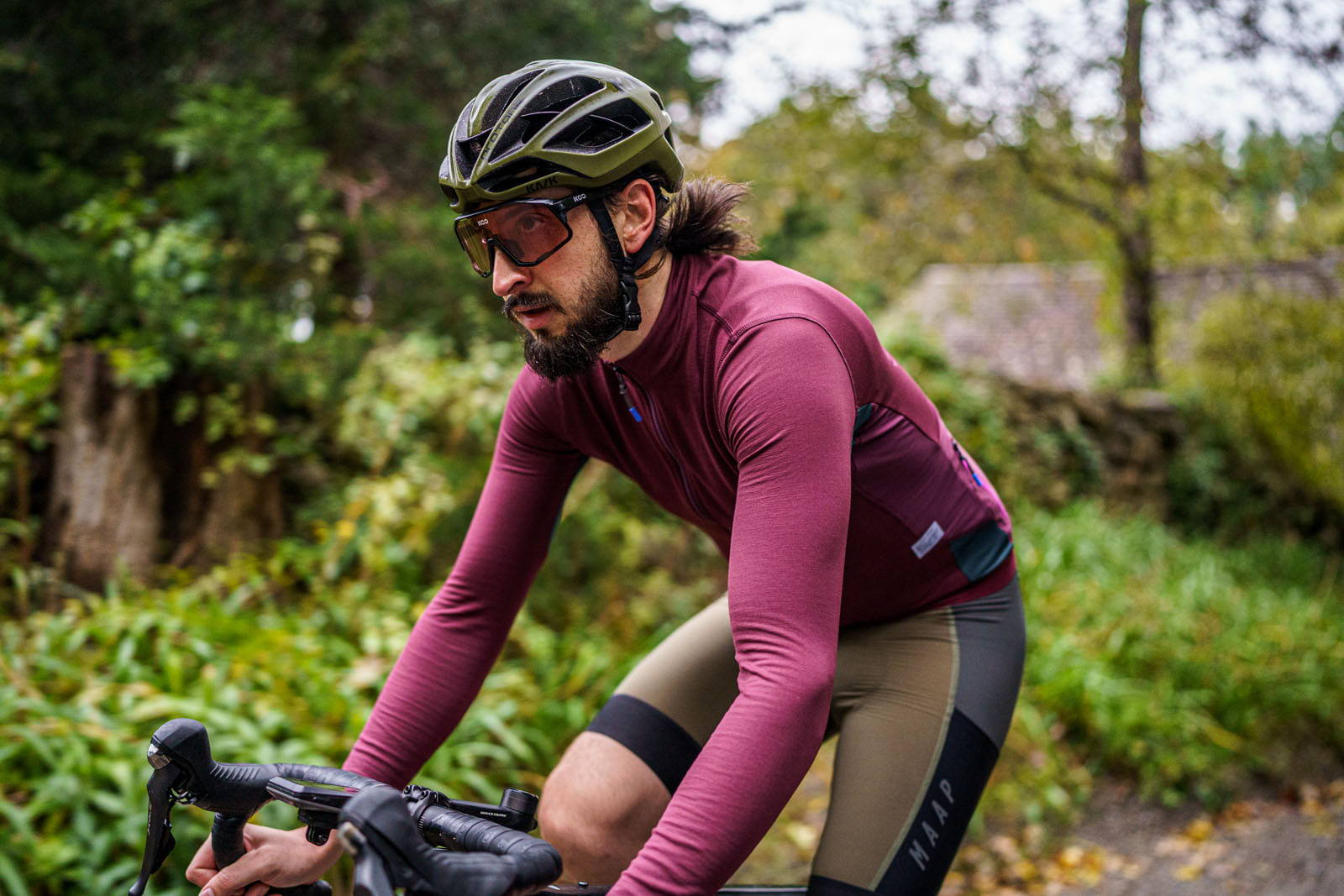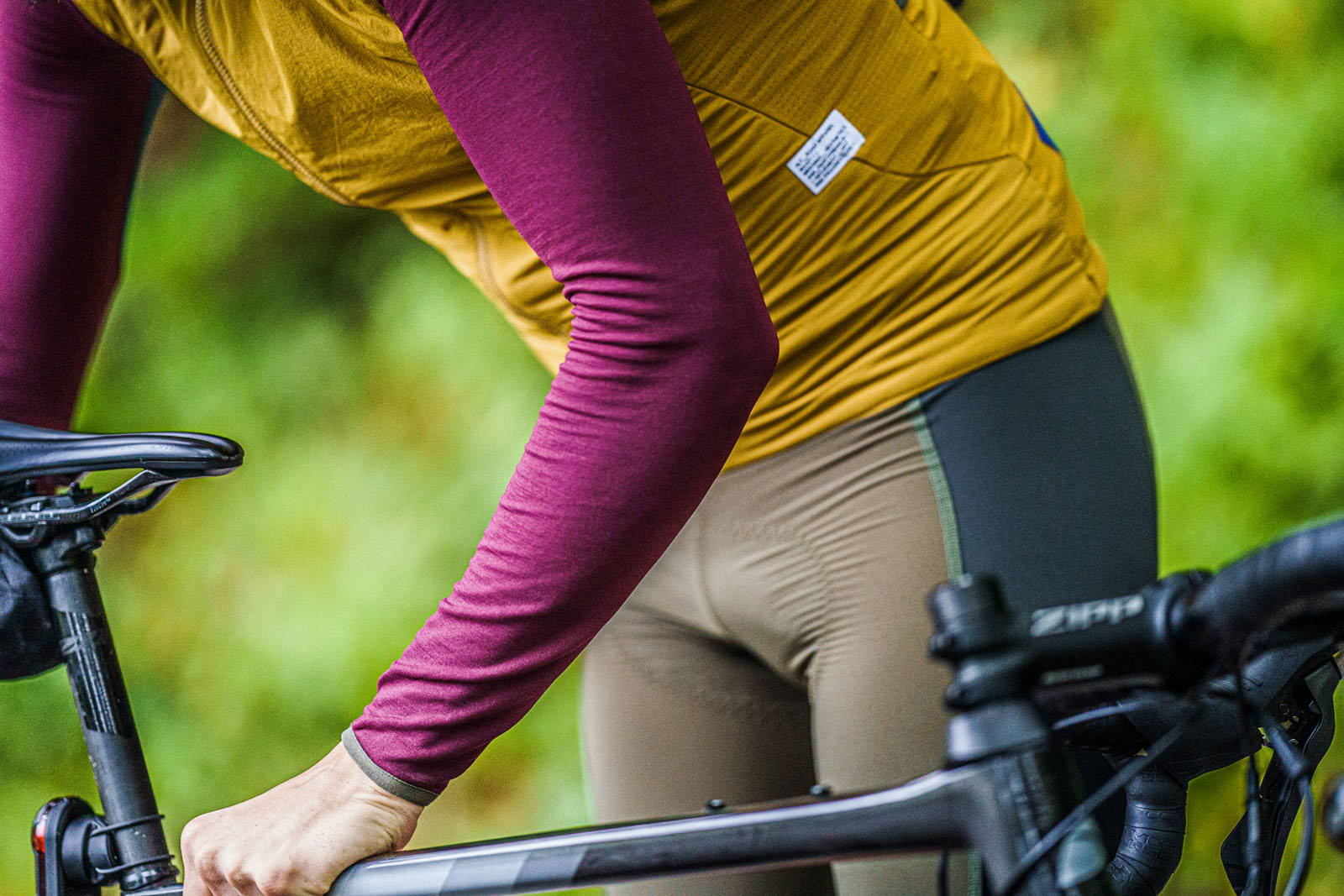 WHAT IS MODULAR CYCLING APPAREL
MAAP describes ALT_ROAD as a Modular Cycling Apparel Project. The description embodies the endless combinations in which the items in the ALT_ROAD collection could be worn. You can simply wear the ALT_ROAD bib shorts with pocket together with an ALT_ROAD Technical Tee. If it gets just a little chilly, you can then add the ALT_ROAD Vest on top of the technical Tee and enjoy the additional pockets. The ALT_ROAD jacket to can be worn on top of the Technical Tee, a jersey, a base layer, or both.
Wherever you want to go, however you want to ride, ALT_ROAD jerseys, vests, and jackets, all offer the same large capacity storage system. You can dress in a modular way to best fit the changing riding conditions you might encounter on your ride. All while also looking good when you are enjoying a brew at the bar, or sipping coffee at the cafe.
WATCH THE MAAP ALT_ROAD VIDEO GUIDE
MAAP ALT_ROAD CARGO BIB SHORTS
MAAP ALT_ROAD Cargo Bib Shorts are the latest release in gravel bib shorts with pockets. Often called cargo bib shorts, or adventure bib shorts, or simply gravel bib shorts, bib shorts with pocket became extremely popular in recent years.
The ALT_ROAD Cargo Bib Shorts features two pockets, making it a bib short ready for any gravel adventure. The right pocket features a flat zipper that can be used for your most valuable items which must be kept safe on your adventure ride.
The left pocket on the ALT_ROAD Cargo Bib Shorts is an open one, with an elastic band on top to keep your belongings inside at all times. This bib pocket is especially useful for something like your phone, ride food, or any other item you might want to pick up quickly from the bib pocket while riding. Given that adventure rides often feature plenty of bumpy gravel roads, it's important that access to at least one of the bib's pockets is easy and fast.
The materials used in the production of the ALT_ROAD Cargo Bib Shorts are adventure-specific. The bib short's main fabric seems to offer a more relaxed compression, and it feels more abrasion-resistant. The pockets are made from a thicker material to most bib shorts with pockets. Instead of mesh pockets, the MAAP ALT_ROAD adventure bib shorts feature a non see-through, high density elastic fabric. It feels more robust and capable than most other bib short pockets, and the material feels structured and durable.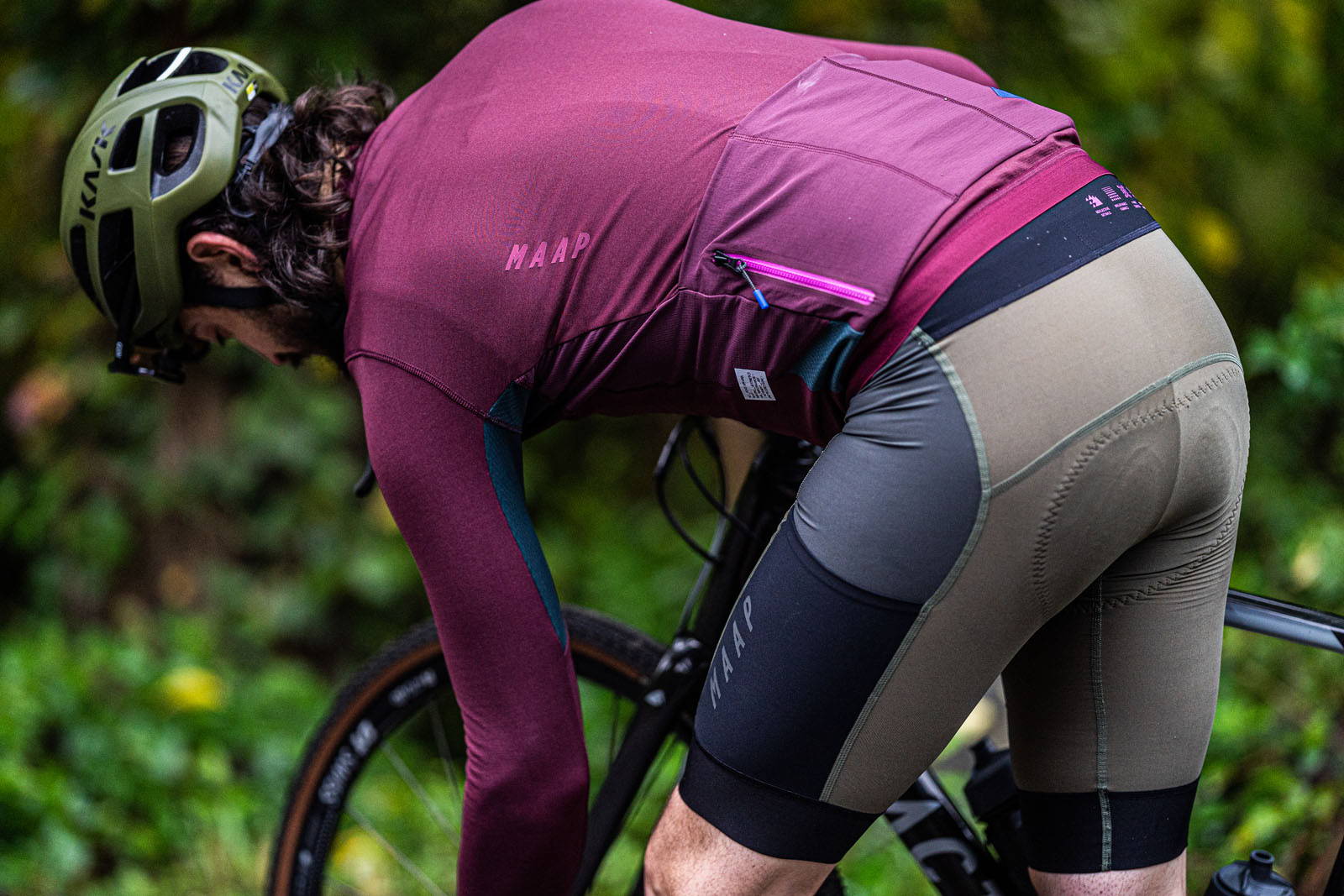 MAAP ALT_ROAD Cycling JERSEY
MAAP ALT_ROAD jerseys are a true revolution of MAAP's cycling jerseys line up. Usually known for its graphic art work and light second skin performance fabrics, the jerseys in the ALT_ROAD collection offer smart looking minimal branding, and more robust technical materials. A fabric blend made of wool and synthetic yarns is introduced for the first time in a MAAP cycling jersey. The blend of wool and nylon offers excellent thermoregulation, anti-bacterial properties and abrasion-resistance. The fabric also offers additional compression to what Merino wool alone would have offered, making the jersey more fitted. The breathable side panels offer a bit more structure and rigidity for longevity and stability while carrying equipment in your pocket.
In addition to 3 large back pockets, MAAP ALT_ROAD jerseys offer a 4th zippered pocket. This additional storage helps protect valuable items on rugged terrain.
The ALT_ROAD jersey fits very close to the body. While the collection is marketed as MAAP's Team Fit, we found the jerseys to be very much a European race cut, consistent with most other MAAP jerseys. Add to it that the nylon and wool blend offer less stretch than traditional race jerseys and you might find that the MAAP ALT_ROAD jerseys feel particularly snug. Do consider sizing up accordingly for a more comfortable, forgiving fit.
The ALT_ROAD jersey's pockets are made of a material which seems particularly durable, almost a cordura-like fabric. The snugness of the pocket's materials allow the storage of bulkier items without worrying about the pockets stretching down and sagging.
MAAP ALT_ROAD GRAVEL BIKE GEAR
The MAAP ALT_ROAD gravel bike gear collection includes gravel cycling jacket, gravel cycling vest, gravel cycling gloves, merino socks for gravel riding, and more.
The MAAP ALT_ROAD gravel cycling jackets and gravel cycling vests are made using the tested and proven POLARTEC Alpha Insulation. The technology uses fast wicking synthetic insulation pattern which provides ample warmth with minimal bulk.
To keep the vests and jackets as modular and easy to take on and off as possible, MAAP opted to use the POLARTEC Alpha Insulation strategically, just in the front. This choice offers maximum flexibility and maximum warmth to size. Leaving the Alpha Insulation exposed inside the vests and jackets reduces the bulk even more.
Due to their extremely low bulk, the MAAP ALT_ROAD vests and jackets are best suited for Fall and Spring riding, unless you run hot, or are planning to go hard during winter season. The jackets offer no insulation on the arms, making it more packable and comfortable for layering.
The fit of the MAAP ALT_ROAD gravel cycling vests and ALT_ROAD jackets is snug but very comfortable. Both items also offer an additional 4 pockets on the back, including one zippered pocket.