FALL / WINTER CYCLING APPAREL GUIDE

WORDS AND PHOTOGRAPHS: GIL LAVI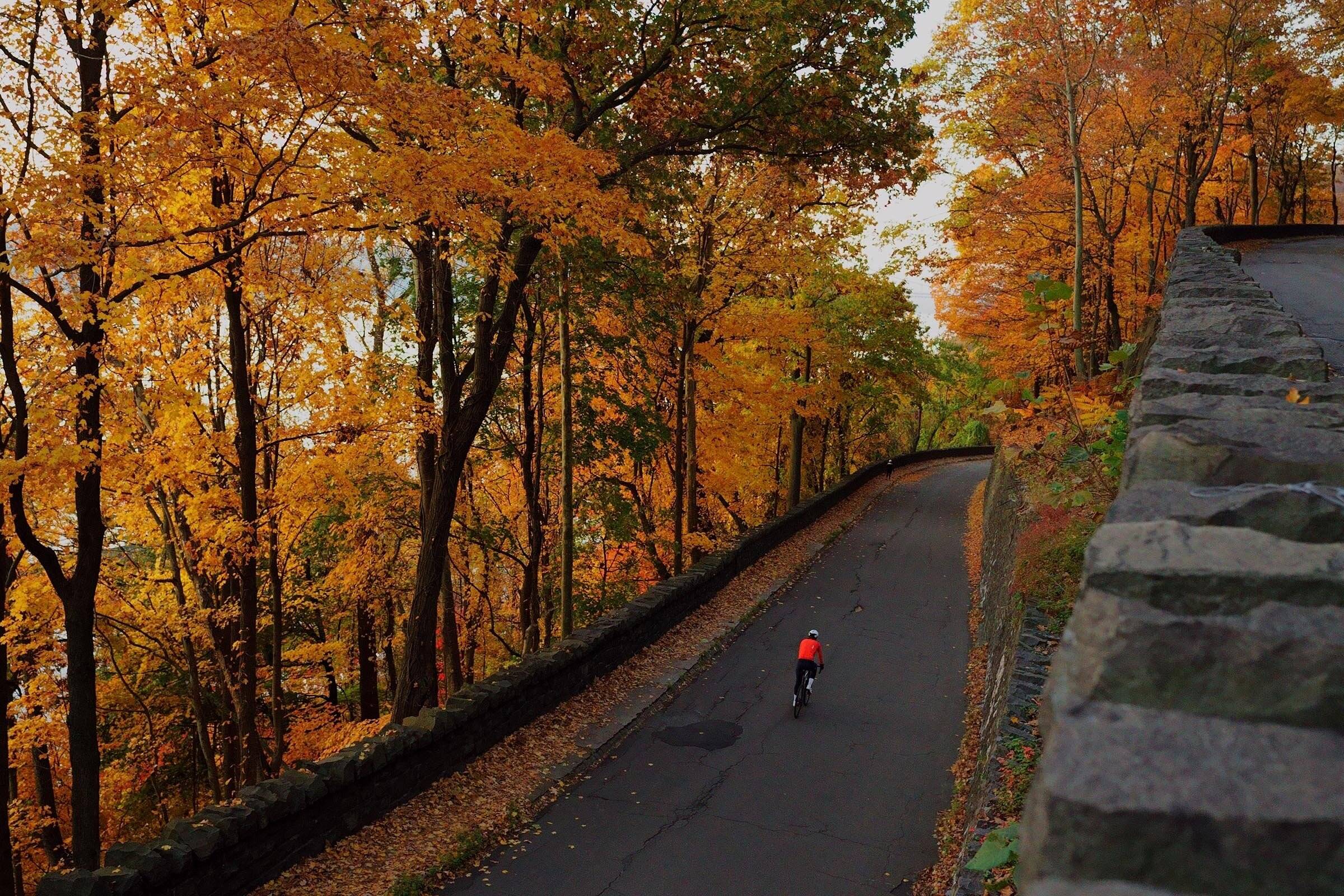 Cycling during Fall and Winter presents incredible opportunities to enjoy a different kind of beauty. The Northeast is known for its beautiful Fall Foliage. If you live in New York City, the colorful foliage can be easily enjoyed within minutes of Manhattan by crossing the George Washington Bridge with your bike. With stunning colors, leaves painting the roads in red, and sometime foggy days that reinvent the scenery, autumn cycling is uniquely rewarding. With the right cycling apparel, riding during autumn might as well be the best cycling experience you'll ever enjoy.
Winter cycling can be a challenge for some cyclists. It takes more confidence to go outside in near freezing temperatures, and the right cycling apparel can make or break the experience. No one wants to find themselves with cold hands or chilly feet 20 miles away from home. Visibility while riding during winter months can also be a concern. While it takes time to dial in your winter cycling gear at first, the rewards of comfortable cooler weather riding are incredible.
So how can you best prepare for winter cycling? Whether you're new to cycling and started riding bikes a few months ago, or you're a seasoned cyclist who has been riding for decades, we have some advice from intimate experience with a wide variety of cycling gear. We personally have worn cycling apparel from nearly every major cycling brand out there, including both the biggest brands as well as selected bespoke manufacturers. We've tested many different materials including Merino wool, synthetics and blends, thermal, soft shell, and hard shells. We've sampled every significant technological fabric advancement over the last decade, from lightweight insulation materials developed in the US for military use, to rainproof single-layer membrane materials developed in Germany, and breathable fabric technologies developed in Switzerland. We've ridden in this gear throughout the Northeast of the United States during winter. From rides around New York City including 9W, Central Park and River Road in the Palisades, to further out in New Hampshire, Massachusetts, and Vermont. We raced in it, rode base miles in it, and bikepacked in it.
With all of this experience in mind, here at Rubber N' Road we choose to carry the cycling apparel that we believe is the best in the world for the conditions we ourselves encounter as cyclists throughout Fall and Winter.
The Best Gear for Winter Cycling
If you are shopping for winter cycling apparel, it can be confusing to understand all the jargon that's out there. "Thermal jersey, soft shell jacket, hard shell jacket, windbreaker jacket, insulating jacket, DWR, rain jacket, Merino base layer, thermal base layer, light membrane gilet, insulating gilet, rainproof gilet, waterproof vest, water resistant vest," the list goes on and on. Whereas cycling apparel brands offer many iterations of all possible items needed in a wardrobe for cooler-weather cycling, the joy of cycling in winter can be a bit daunting, as the joy comes after you've figured out the right combo of clothes. So, what do you actually need?
Generally speaking, most winter cycling apparel is made from synthetic fabrics, Merino wool, or a blend. Soft shell jackets, hard shell jackets, and thermal jerseys are made of synthetic yarns, with a few exceptions. Base layers, winter socks, gators, and head covers can often be made either from Merino wool, or from synthetic materials. What's the difference and which is the best material for winter cycling?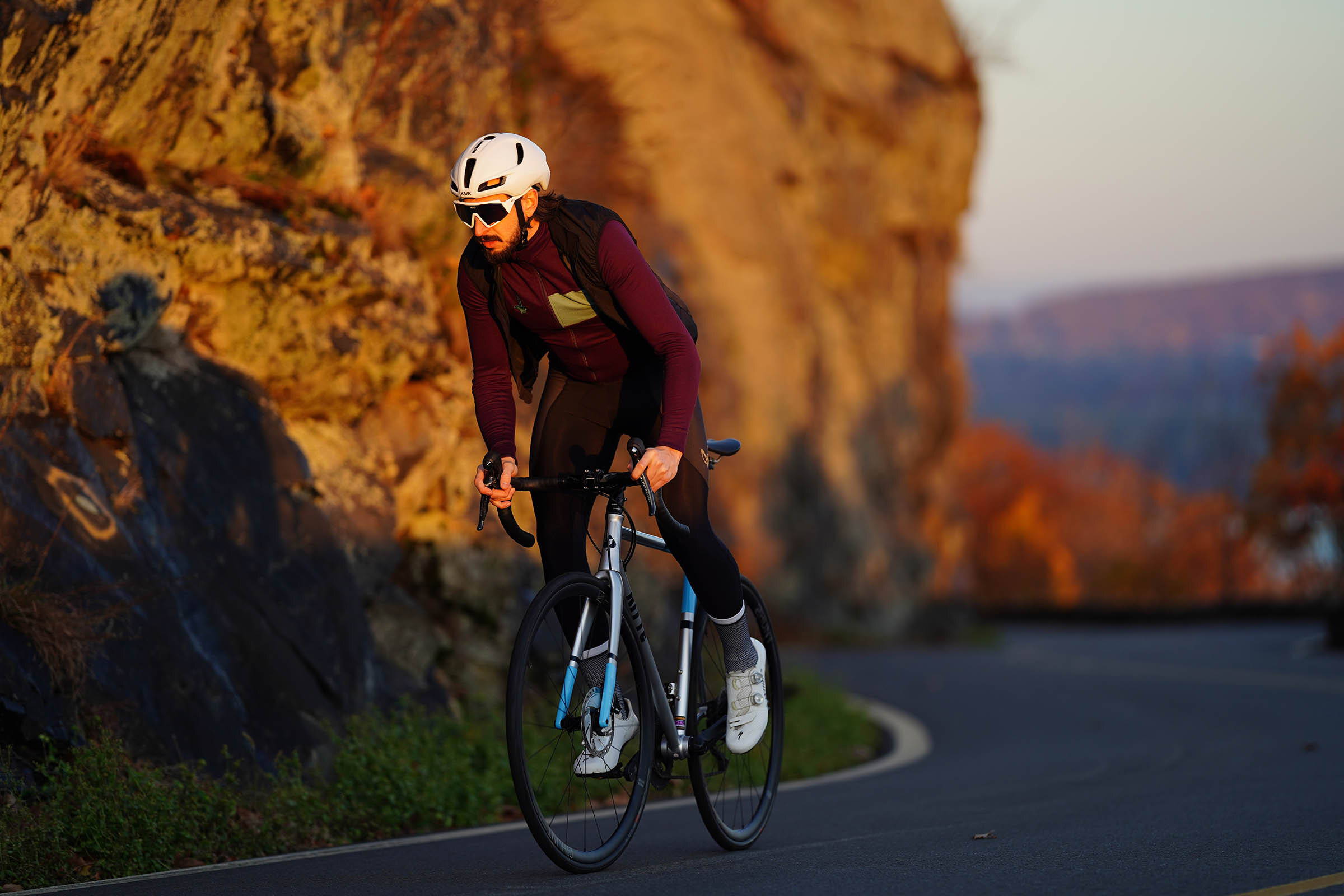 Winter Base Layers and Cycling Jerseys: Merino Wool vs Technical Fabrics
Thermal jerseys are most often made of technical yarns that keep you warm and comfortable during the winter by fulfilling dual functions: (1) wicking sweat and humidity away faster than other yarns, and (2) trapping body heat, aka insulating. They work especially well when the riding tempo is high, as your body produces more heat, and a light airflow from the momentum assists in fast and efficient wicking of moisture. The biggest downside of performance fabrics comes at lower intensity workouts, where your body produces less heat, and less exterior airflow decreases wicking efficiency. Also, performance fabrics tend to be more effective at wicking the closer they are to the skin. If you're accustomed to riding in tight cycling clothes (what most would call a 'race, or European fit'), you can expect technical fabrics to perform at their best. The more room there is between the skin and the jersey, the more humidity can build up and leave a chilling sensation on the skin. The other downside of thermal fabrics is their efficiency at trapping heat inside can cause overheating on long climbs where effort and heat emitted is high while speed and exterior airflow is low, significantly inhibiting wicking. This is especially true with thermal jerseys that feature extensive use of windproof and water-resistant panels.
Thermal winter jerseys can feature windproof panels or not. For example, MAAP's Training Jersey features light windproofing, for maximum performance at high intensity, where MAAP's Force LS Jersey builds upon the Training Jersey's thermal properties while adding windproof materials exclusively in strategic zones. Creating a high performing thermal jersey is both an art and a science of first balancing different technical panels made of windproof membranes and breathable yarns, and then strategically positioning them to ensure optimized core temperature and minimal humidity build up for maximum warmth and comfort.
Merino wool works quite differently than synthetic fabrics. While the goal remains the same, to offer the rider maximum warmth and comfort, the way this is achieved is entirely different. Merino fabrics usually offer improved breathability over thermal fabrics, greater heat retention, and reduced wicking. In fact, Merino fabrics can absorb 30% of their weight in moisture without feeling cold to the skin. This enables cyclists to enjoy warmth on the bike under evolving conditions and effort types. Merino wool will help you stay warm under a wider range of efforts, and over a larger variety of conditions, from climbs to descents. Still when it comes to high intensity efforts and racing (or long, continuous climbs, followed by long descents such as those found on the West Coast), technical fabrics' superior wicking is the best tool for the job.
In summary, thermal jerseys function by trapping body heat and efficiently wicking away moisture through polyester's hydrophobic qualities. Wind blocking membranes are often used to ensure core protection, and ventilated side and back panels are often used in high quality winter cycling jerseys to regulate sweat and moisture build up.
Merino wool jerseys on the other hand offer exceptional breathability and insulation, making them especially adaptable to changing conditions. Merino wool also has anti-odor properties, which makes it especially suitable for athletic purposes or for multi-day applications such as bike-packing. While Merino wool base layers and jerseys might retain more moisture than technical garments, in most conditions, they will offer a reduced 'chill effect.'
So, which base layers and jerseys should you choose for winter cycling? We like riding in jerseys and base layers that feature technical garments on our fastest rides, during interval training, and racing. Merino is our material of choice for most days, which include base miles, endurance rides, and long adventures with a lot of rest stops.
Generally, long sleeve Merino jerseys and long sleeve thermal jerseys usually perform well in temperatures ranging 45°F - 65°F depending on ride intensity, base layer, and gilet combination.  
One tip to remember is that to stay warm out there, it's very important to avoid overheating as it will leave you damp or wet, and therefore cold. On the bike, overdressing can lead to cold chills from the sweat rather than a sense of warmth. Sometimes, less is more.
Winter Cycling Vests
Cycling vests (or gilets in French) are among the items every cyclist must-have in their wardrobe. A packable gilet is critical during Spring and Fall months and can make any cycling jersey in your wardrobe more versatile. A good vest can make riding during Spring, Fall and even Winter far more enjoyable, whereas the wrong vest choice can provide you with a rather poor experience.
There are four main types of vests: Lightweight vests with mild wind-resistant front panels and open mesh backs, medium weight vests featuring a fully windproof membrane, waterproof vests, and insulating vests. In our personal opinion, breathability is the most important quality when looking for a cycling vest. While a windproof membrane and waterproofing can be useful in some situations, to us a vest that's not truly breathable is more likely to leave you wet and therefore cold, rather than toasty and comfortable.  
Insulating vests are a great option for cyclists who are looking to avoid the constraints of a jacket, while keeping their core warm at near or below freezing temps.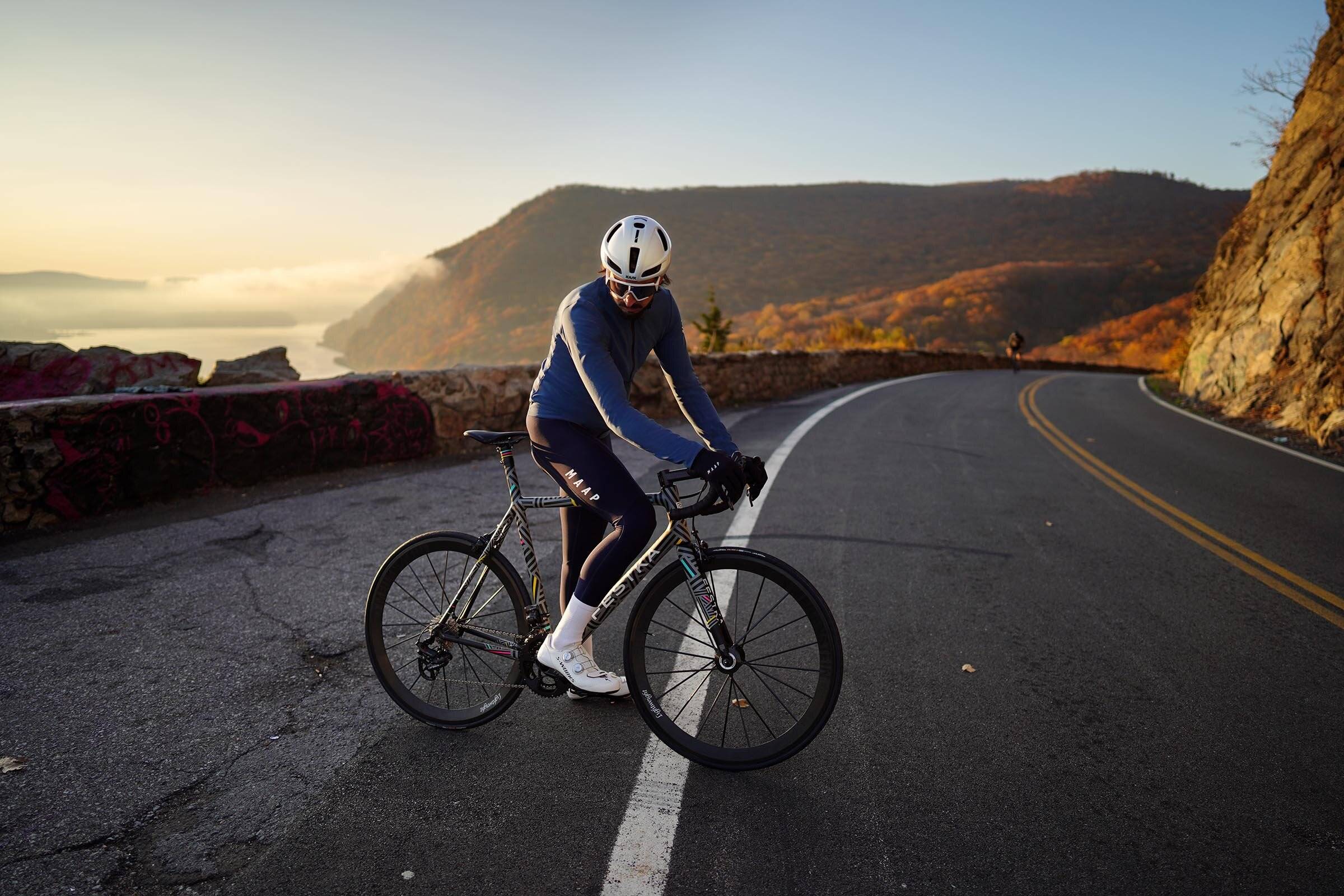 Winter Jackets
Which jacket you should use starts with where you ride. If you're based in New York City like us, or any major Northeastern city, most of the roads we ride are relatively flat, with mild climbs, potentially some rolling hills, and either strong or gusty winds. During winter, temperatures often reach near or below freezing.
Whereas we think that windbreakers are important for riding in mountainous areas, like Colorado or Arizona, where you take the time to remove them for long continuous climbs and put them back on for long descents, we find them less critical on our local rides. Soft shell winter jackets are usually the way to go for cycling in New York and the Northeast. The lack of long climbs and descents, plus the fact that temperatures tend to be more stable from morning to sunset means you are likely to want to keep your jacket on in all conditions during winter.
Soft shell jackets are insulating and usually protective against both wind and rain showers. The best cycling jackets can be useful in a wide range of temperatures, from 30°F - 55°F. Deep winter soft shells like the Isadore Sector can be used in very harsh conditions, down to 20°F.
One of our favorite soft shell cycling jackets is the MAAP Apex Winter Jacket 2.0. Updated for Winter 2021, the jacket features technical outer garments that are highly visible as well as wind and waterproof. Another go-to jacket deeply loved by the Rubber N' Road team is the Isadore x OSRAM Merino Membrane Jacket. Nothing about this jacket is conventional. Where most soft shell cycling jackets use a synthetic membrane, Isadore opted for a fine Merino wool for maximum adaptability for various weather conditions. The jacket also includes active illumination from German lighting company OSRAM for increased safety in low visibility conditions, and vents that can be opened or closed for active temperature regulation.
Winter Cycling Gloves
Keeping your hands toasty and comfortable during winter riding is a task that requires finding the best cycling gloves out there.
Great cycling gloves have to be very flexible and versatile, so you can retain control on the bike; they have to be somewhat thin, so you can maintain an unhindered brake and handling feel, and obviously, they have to keep your hands warm. If your cycling gloves are too windproof, your hands will sweat and get chilly from being wet and humid, however if they aren't protecting enough from the wind, freezing gusts will leave your hands painfully frozen.
Between 45°F - 60°F, our favorite gloves are the MAAP Base Gloves and Isadore's Merino Gloves. Below 45°F, we use Isadore's Winter Gloves or MAAP's Deep Winter Neo Gloves, both of which are windproof and water resistant. In both cases, we highly recommend using a Merino-glove liner underneath the winter glove. Deep winter gloves are often better at wind protection than they are at providing the warmth and wicking that liners do.
We strongly recommend sizing up deep winter cycling gloves and taking into consideration the need for a merino liner glove underneath them to achieve maximum comfort and warmth in harsh conditions. It's especially important in winter to allow maximum blood flow and not to wear an overly tight windproof glove.
Winter Cycling Socks, Oversocks and Overshoes
When it comes to keeping your feet warm and toasty on your winter rides, the choice of the right materials and layering is critical. Maintaining good blood flow and room in your shoe is essential for warmth build up. A shoe that's too tight won't allow much heat to build around your feet and this heat serves as a natural insulation. A common misconception is to wear as thick of a sock as possible inside your already tightly-fitting cycling shoes.
Before you opt for doubling up your socks or choosing a thick pair, consider your sock material and using oversocks or overshoes on top of your shoe instead. Merino cycling socks provide good breathability and warmth without being too thick, and cycling oversocks or overshoes reduce wind effects and can improve insulation.
Oversocks are thin, relatively affordable, and are very efficient at cutting the wind, but can be tricky to put on and off. Overshoes provide greater environmental insulation around your shoe, helping to retain heat inside and wind outside, while remaining breathable.